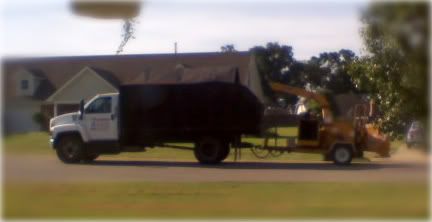 I get to awake to this....FOWLER TREE SERVICE. At 7 effing 30 in the freakin morning!!!
It sounded like they were a) bulldozing a house, b) hitting a mailbox repeatedly, c) plowing through OUR house, or d) all of the above.
[Choose d.]
You guessed it! Yeah, 7:30. AM! WHAT THE F?!?! They even woke my brother who can practically sleep though anything, just to cut down a tree and shred it in the cove.
Honestly, WHY would you do that?! Who the hell calls up guys to come cut down and demolish a tree that early? I have to work a 1 and now I'm sure my work performance will suffer due to 5 HOURS OF SLEEP!!!! Are you serious?
♥*
P.S. DON'T have these guys cut down your trees. They have little to ZERO respect for anyone. Kthnx for RUINING my day! Jerks.